Mattress sizes are important to know, so you can arrange your bedroom bed the way you want it.
In Europe people buy a lot of custom mattresses, as they like more custom made furniture.
In the USA it is a little easier with the mattress sizes.
There are a couple standard mattress sizes that most people use.
Very few people are looking for the custom made mattresses.
Those who are looking for custom mattress sizes usually need it for their truck or boat.
Let see what are the mattress sizes and who can use them.

The size of the twin mattress is 39 inch by 75 inch
Twin mattress is the smallest mattress size for a kid's bed, after the crib mattress.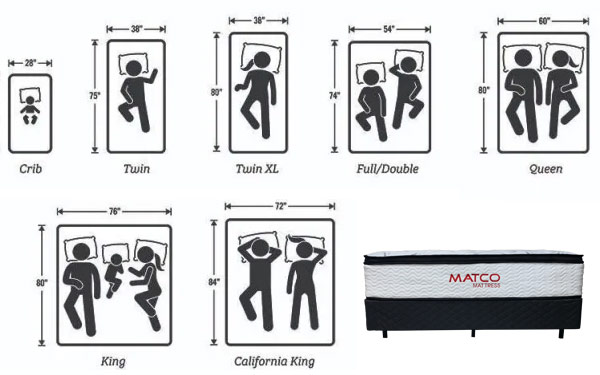 Who can sleep on a twin mattress?
Twin mattresses are made for the kids bedroom. You can have your child on a twin bed or if you have siblings you can have two twin mattresses in the same room. If you are out of space, just use the bunk beds for the kids room. Some parents who have a bigger room, like to have their child's twin bed near their bed,in the same room. Many customers are asking if they can use the twin mattress for adults.
You definitely can for one night, but for a longer period of time it is more difficult to do that. The reason being is that twin mattresses come too short and narrow for adults. You don't want to have a sleepless night just because of that. We don't recommend twin mattresses for adults, as we think that you should have enough space and comfort on your mattress.
Twin XL mattress
Twin XL mattress size is 39 inch by 80 inch
Who can sleep on the twin XL mattresses? Twin XL mattresses are not very commonly used mattresses. But, some parents like the twin XL mattress for their child's bedroom. The twin XL mattress best suits taller kids. As they come a little longer than the regular twin mattress.
Full mattress sizes are 54 inch by 75 inch
Who can use the full size mattress? Full mattresses can be used for bigger kids and adults. Is difficult to squeeze two adults on the full bed. But, if you really need to do this for a short period of time, you can. Full mattress is best if used for one child or one adult. If you don't have a huge bedroom, but want a bigger bed than a full bed will be your best option.
The size of the Queen size mattress comes in 60 inch by 80 inch
Who can sleep on the queen mattress? People who like space in their bedroom bed. You can sleep alone in the queen size mattress or you can sleep with your partner. Queen size mattress is the most searched mattress size in the USA. The price of a queen mattress is affordable.
The size of the King mattress is 76 inch by 80 inch
Do you want the King size mattress in your bedroom? You need to have a larger bedroom to be able to fit the King mattress. The King size mattress is perfect for your family, if you like to sleep together. You will have enough room for everybody, your partner, your kids and even your pet. We call the King size mattress the family mattress, as it is big enough to fit all your family members. You can definitely sleep by yourself on a King mattress and you will enjoy your comfortable sleep in your bed.
California King mattress
California King mattresses come in the size of 72 inch by 84 inch
Who likes the California King mattress? As the Twin XL, the California King bed is the best for taller people. The California King mattress comes longer than a King, but it is a little narrow too. If you like a longer bed than a King size mattress, the California King bed is a great choice. Hope we helped you choose your mattress size for your bedroom. If you just bought a new house, or moved to a new place, most likely, you will need more than one mattress size.
No matter what mattress size you need - Twin mattress, Twin XL mattress, Full mattress, Queen mattress, King mattress or California King mattress, we can help you choose the perfect mattress size for your bedroom.
Our mattress store in Pensacola will offer a great diversity of mattresses and you can choose your best mattress model, style and size.