Pensacola is well known as a town with strong military ties.
We are proud to have so many military coming to Pensacola. And, very thankful that they choose Matco Mattress for their mattress and furniture purchase.
Coming to Pensacola for the first time and need to furnish your room?
Matco Mattress is here to help you get the furniture and mattress with a military discount.
Our mattress and furniture store is offering mattress & furniture military discounts. We understand how important is to be welcomed into a new town.
And get the price you can afford for your bedroom.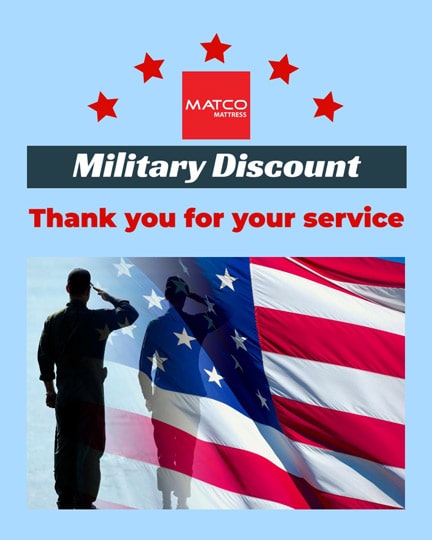 Matco Mattress is a family owned and operated business in Pensacola that offers military discount. 
Get the discounted mattress and furniture today.
We also offer same day delivery.
Having so many military customers we know that when you move to a new town you need your mattress the same day.
You can order online your mattress and furniture with a military discount. We can deliver your order when you come to town. Your purchase can be easy with Matco Mattress.
Visit Matco Mattress store and test the mattress you want to sleep on. Not sure what mattress model and bed frame you want?
Stop by our store and take them home the same day with a military discount.
Call our customer service 
You can always call our store for more information. We will be happy to help you get the help you need regarding your future purchase at our store with a military discount.
We try to do our best to respond as quick as possible to our customer.
Need any information and you don't have time to come in to our store, chat with us online about the military discount that we offer.