King mattress is the size of the bed that people want to buy when they have a big house or a big bedroom.
King bed is a perfect match for people who like a big bed and a lot of space. You can sleep comfortably with your spouse, kids and even your pets.
King size
The size of the bed allows you to enjoy your time to relax during your nap and night sleep.
King size is one of the most craved mattresses on the market.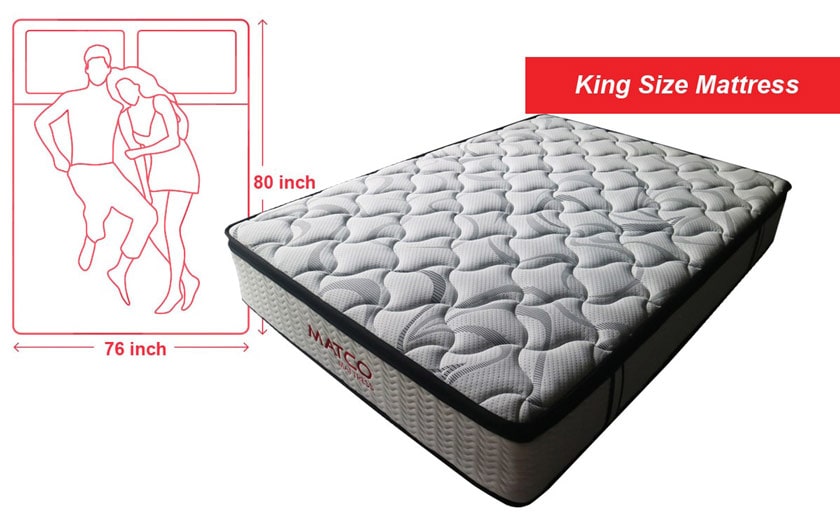 Cheap King size mattress
The price of the mattress can be expensive. King size mattress is the most expensive mattress. But, how to get a cheap king size mattress?
Sales, discounts and closeouts for the king size mattress.
Mattress stores have a lot of sales going on for the holiday seasons.
King Bed
King bed looks beautiful in your bedroom. You might need a king box spring, if you like a taller king bed.
The king bed looks big, comfortable and cozy for your entire family.
Why choose a King mattress?
Space
The main reason customers choose a king bed is because of the space they have in bed. You can enjoy your sleep and have space to turn around in your bed. All your family can snuggle in the mornings in a king bed and read books in the evening. If you have pets - that is great! You can all fit in the king bed. If you sleep with your partner, you will have space for both of you. You will not feel that you are overheated and uncomfortable.
Comfort
Buying a king size mattress means more comfort in your bedroom. Sleeping on a king size mattress is automatically sleeping comfortable and tide. Comfort is equal with enough space on your king mattress. No disturbance during the night, no overheating, and not feeling the tossing and turning around of your partner.
What you need to have for a King bed?
Big Bedroom
King size mattress takes a lot of space in your room. A small bedroom will not fit a King size mattress. Make sure you measure the room and leave space for extra furniture.
Money
King size mattress is not a cheap mattress size. Is big and costs more. Get ready to spend more money on your bed. More expenses will come with the king bed, king mattress and king sheets.
Consider accessories
You decided to go with the king mattress, don't forget about other furniture in your bedroom. Leave space for a table, chair or other things that you might desire.
Difficult to find a cheap king size mattress, but you can try searching around at the local stores. We have 70% off mattresses, including king mattresses.
Come see us and enjoy our discounted mattress prices.