Queen size mattress is best known as a mattress with no worries about space.
It is affordable, for a person and even for a couple, no tossing and turning around.
Queen size mattress for kids
Kids love the Queen size mattress, because they can have a friend over and share the bed with them.
Queen size mattress for one person
Perfect bed for those who love to sleep by themselves and have space to turn around. Enjoy breakfast in bed, read a book, have your coffee in bed.
Queen size mattress for couples
Queen size bed mattress is large enough to sleep two people.
You will be close to your partner and have a relaxing sleep.
Moving to a new house and have no furniture at all? Look for a queen size mattress set for your bedroom.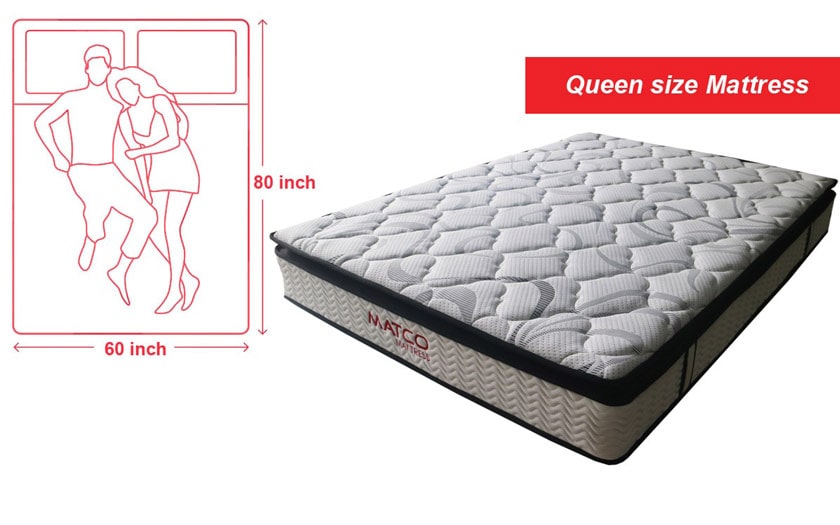 How to find the perfect queen size mattress set?
Decide on the queen mattress prices
Your budget range is important to know what type of bed you can afford. Beds are expensive and to find the perfect bed is time consuming. Knowing the price you can pay for the bed, will narrow your search.
Look for queen size mattress for sale
Mattress deals can save you money and time. Companies have mattresses for sale all year round. Research when is the best season to buy a queen size mattress for sale. Queen mattress prices are affordable for holiday mattress deals or on mattress clearance.
Choose the queen size mattress set
The queen size mattress set includes:
Queen box spring
Queen metal frame
Queen mattress
In just a couple minutes you can have a perfect bed. Sleep comfortably on your queen size mattress set.
Try the queen platform bed
If you have a queen platform bed, you need a queen box spring and queen mattress. Your queen bedroom bed is ready for your comfy sleep.
Go with the queen pillow top mattress
The most bought queen mattress model is pillow top mattress in our store. Customers like this mattress model, because is not too expensive, is comfortable and is the best queen mattress.
You can share your queen mattress with your pet, if you have a cat or a dog.
Best queen mattress can make your bedroom look rich and calm.