Best mattress in Pensacola, Florida can be found at our mattress store.
Stop by to see our mattress collection in our local mattress store!
Starting from twin mattress sizes for kids and ending with California King for adults.
We keep all mattress sizes in stock - King, Cal King, Queen, Full, Twin, Twin XL.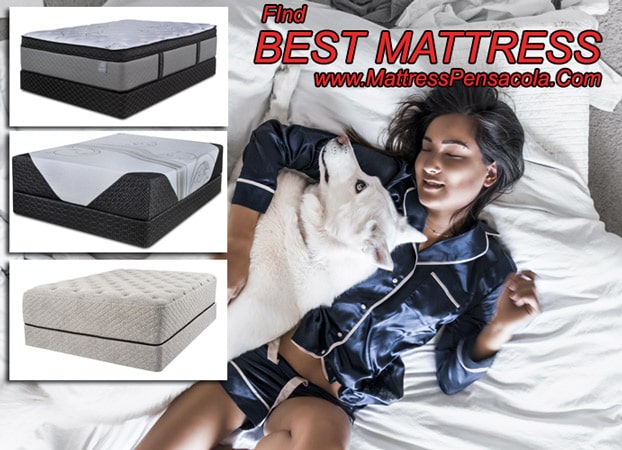 Best mattress for your sleep can be different for each customer. We offer many mattress models in plush, pillow top, euro top. Different mattress materials - individually wrapped coils, memory foam, gel foam, cotton covers on mattresses.
How to know what is the best mattress for you?
Decide on the mattress firmness
Test your mattress at the store
Lie on the mattress for couple minutes
Compare the mattress models
Decide on the comfort level of the mattress
Every person has their own sleeping preferences. According to your sleeping habits you can decide on your best mattress needs. As we always say there is no mattress that fits all.
Every person is different, so is the mattress model they choose.
Hybrid mattresses
Hybrid mattresses can be considered the top choice when it comes to your best mattress. Hybrid mattresses offer a good support and comfort while your body is resting.
The mattress support is made from individually wrapped coils. The innerspring support is important in combination with a comfortable top.
The top level can be plush, pillow top, euro top. By lying down on the mattress you can see what comfort is best for you.
Memory foam mattresses
Memory foam mattresses are still in trend this year. Our customer say that memory foam mattresses are one of the best mattresses for their sleep.
Although memory foam mattresses are not a good fit for everyone. Most people love the sink in feeling into their mattress.
Pillow top mattresses
Pillow top mattresses are the most searched mattresses as a comfort level. You can choose from plush mattresses, pillow top or euro top.
The differences between all these three mattress models is the comfort level. Pillow top mattresses have a soft cushioning material that is sewn on top of the mattress. Is like a pillow that is on top of the mattress. Most pillow top mattresses have a softer surfaces and best suits for side sleepers.
This layer on top can be made from different materials like memory foam or gel foam.
Still looking for your best mattress in Pensacola?
Come in to our mattress store and get your best mattress delivered at home tonight. You need to sleep well starting today!