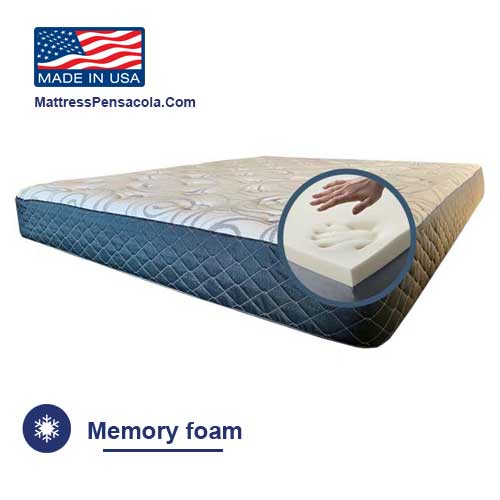 Mattress cooling system using the latest technology: SERENE FOAM for perfect climate control.
Cooling, heating or sweat drying - Liberty America adjusts your mattress temperature!
It is made of serene foam, which is a innovation in the mattress world.
And we want our customers to have the option to feel the great features of the Serene foam.
The best benefits of the serene foam from the Liberty America memory foam mattress is that the mattress has many microscopic air capsules.
The mattress breathe and the air go through the mattress.
Liberty America Memory Foam mattress is a memory foam mattress that can make you sleep better.
With this mattress you are not going to feel any pressure in your joints and motion transfer. If you sleep with your partner, you won't feel when he is moving around in the bed.
This mattress is not temperature sensitive!
This is due to the many air capsules that are present in the mattress and allow the warm air to escape and fresh air to come in.
Liberty America Memory Foam Mattress Layers:

Natural Cotton
Natural Cotton FR Fiber barrier
Serene Comfort Quilt
Foam
2 Comfort Layer
Foam
Adjustable friendly
Liberty America Memory Foam Features Mattress:
Surface - this mattress is medium firm and offers comfortable night sleep.

Sere foam - No motion transfer, no temperature sensitive. Offers pressure relief for your body.

 
Liberty America Memory Foam Specification:
Support Core - Foam Core

Comfort Level - Medium Firm

Mattress Height - 8 inch

Mattress Quilt - Serene Comfort Quilt
Warranty
5 Years Prorated
1 Year Full
Note: The warranty is valid only if you buy the mattress together with the box spring
Box Spring
Can be bought together with the box spring or separately
MADE IN AMERICA