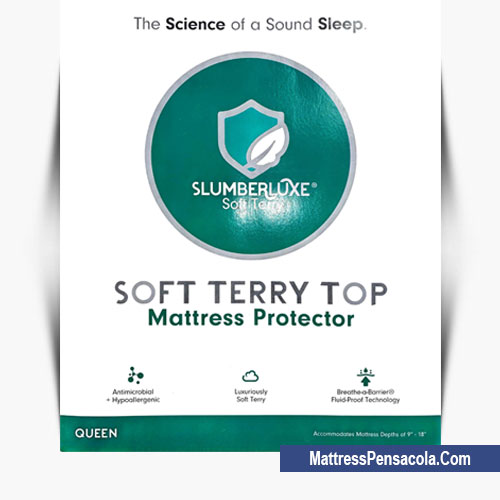 Mattress protector - Fluid-Proof Technology (Twin)
Soft Terry Top Mattress Protector available in Pensacola Mattress store!
Antimicrobial + Hypoallergenic technology! Certified & Laboratory tested and guaranteed bed bug protection.
Hypoallergenic protection from irritants, dust mites, mold + bacteria!
Mattress Protector Featuring Breathe-a-Barrier® Fluid-Proof Technology

• Impermeable yet Breathable Waterproof Barrier
• Proven Dust Mite & Allergen Protection
• Protects Against Stains & Liquid Damage
• Luxurious Feel
• Easy Care, Machine Washable
• Fits Mattresses up to 20" Deep
• 10 Year Warranty
10 years Mattress protector warranty!