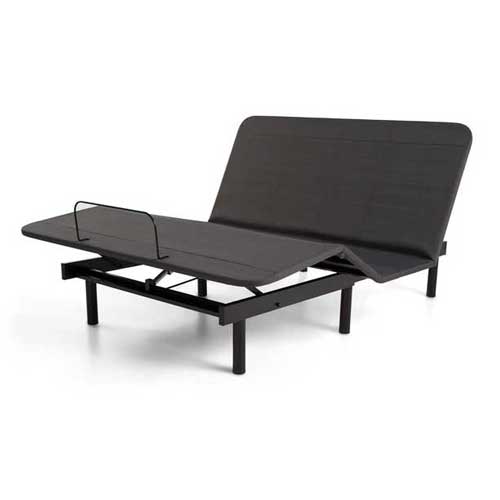 Adjustable Bed Tranquility II (Twin Size)
Adjustable Beds available in Pensacola Mattress store!
The modern Adjustable Bed improves your sleep and resting positions at the touch of a button, elevating your upper body for reading, working or watching TV, or for raising your legs to promote circulation and ease back pain.
The Adjustable Bed Tranquility II provides up to 70 degrees of movement for perfect positioning.
Relax in the preset zero gravity position, or reprogram it to your favorite setting with the programmable remote. This economical model is also designed to have zero clearance so it can fit on top of platform or pedestal beds. 
Adjustable Headboard Brackets-Available for additional purchase, these headboard brackets make it easy to attach your favorite headboard to your adjustable bed
Programmable Postion, Zero Gravity Positon, Improved Lift Capacity

Easy to Carry, Six Legs for Added Support, Flat Position, Fit (designed to fit inside most existing headboard/footboard/rail system
Zero Clearance, Flashlight remote, Gravity Release, Battery Backup.
Size Adjustable Bed Dimensions (H x W x D in Inches) Weight (LBs)
Twin (one base) 13 x 38 x 75; 92LBs
Twin XL (one base) 13 x 38 x 80; 93LBs
Full (one base) 13 x 54 x 75; 111LBs
Queen (one base) 13 x 60 x 80; 117LBs
King (one base) 13 x 76 x 80; 147LBs
California King (one base) 13 x 72 x 84; 146LBs
Split Cal-King (two bases included) 13 x 72 x 84; 147LBs
The ultimate comfort is only a touch of a button away!
Visit our mattress store to try your comfort!