Mattresses come in different sizes - Twin, Full, Queen, King, Cal King.
Twin mattress is the smallest mattress size of all.
A twin mattress is suitable for one person and is also known as a single person mattress.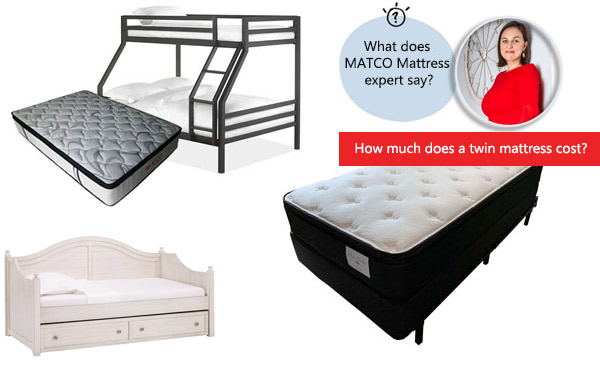 Dimensions: Twin mattress size 
39" wide × 75" long (99 cm x 191 cm)
39" width per person
How much does a twin size mattress cost? 
The price of a twin mattress depends on different factors.
Inches 

Quality

Materials that is made of

Bed type you are going to use it

Add or no box spring
In our mattress store in Pensacola you can find a large variety of Twin mattresses, starting at $69 and up, depending on your budget and all of the above factors.
If you need the box spring the price is going to add up. If the height of the mattress is not crucial for you, you can get a really cheap twin mattress.
Having a tight budget, but need a new twin mattress, visit our mattress store in Pensacola to get the best prices.
Twin mattresses for bunk beds
The most bought twin mattresses are for kids and especially for bunk beds. The mattresses for bunk beds come in 4 inches or more.
The 4 inch mattresses are the cheapest mattresses. If you have a bunk bed twin over twin, you can go with a 4 inch mattress on top and you can have a different height for the button mattress.
The reason being is that the top mattress needs to be thin for security reasons.
But, the bottom mattress can have more than 4 inches, as there is no risk falling off.
You can have a twin over twin bunk bed or twin over full.
You might need a twin or full mattress for your bunk bed. Just make sure to go with a 4 inch mattress on top and a taller one on the bottom.
Twin mattresses for adults
Adults also sleep on twin mattresses.
Some buy adjustable bases with a mattress in twin size. As, they have back problems and need it. Others, just don't have enough room in their bedroom and the twin mattress fits perfectly.
An adult can sleep comfortable on a twin mattress too. There are twin mattresses that are very fluffy and will make you sleep all night long. If you need a nice twin mattress you can go with hybrid type and you won't get wrong.
You can also choose the firmness of your bed - firm, medium firm and soft. The gel memory foam mattresses are soft and adjust to your body easily. 
Twin mattresses for daybed
Get a mattress for your daybed today. The preferences here change depending on your daybed. Some choose a 4 inch mattress, as they say that the daybed mattress is not so important for them.
Others want a memory foam mattress and more height.
As they say they use the daybed everyday and need a comfy mattress that will last long.
The price for a Twin mattress can start at $69 in our mattress store in Pensacola and can go up to $1000.
It all depends on the purpose of the mattress and your budget.
Twin mattresses can make a perfect match for your sleep.