How to care for your mattress if your partner is much heavier than you?
Your brand new mattress needs good care!!!
Especially if you intend to keep it around for couple years. When your partner is larger in size your mattress needs to find the balance in between.
If you want your mattress to last longer, here are some recommendations.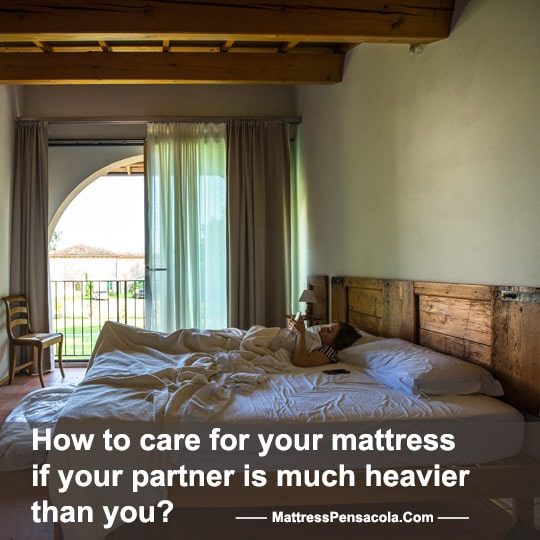 How to care for a brand new mattress when your partner is heavier than you?
For partners with different weight is recommended to rotate your brand new mattress once a month in the first year. In that way your mattress will sleep uniformly.
After 1 year you can rotate your mattress every 2 to 3 months.
This will expand the life of your mattress. You will enjoy your mattress comfort for longer, without worrying about sagging. Rotating the mattress more often will ensure a more even wear and a longer life.
The mattress protector is a huge help to keep your mattress clean. It covers the bed and protects it against water and stains. The mattress protectors are waterproof and can be washed, for your convenience.
The mattress encasement has a zipper and you can put the whole bed inside. It is a stringer protection than the mattress protector. Some people choose to use both mattress encasement & mattress protector on top of it.
Clean sheets are always a plus to maintain your brand new mattress in good shape. Get the right size of the sheets, according to your mattress & bed size.
The sheet sets that are too large are slippery and disturb your sleep.
Take care of your brand new mattress.
Do not skip the recommended tips. If you have any other questions, we are here to advise you on your mattress purchase or care.