Matco Mattress offers so many mattress models in stock, financing and same day delivery.
Choose your best mattress store in Pensacola and sleep comfortable all night.
No more tossing and turning arounds and sleepless nights. A good mattress really makes the difference.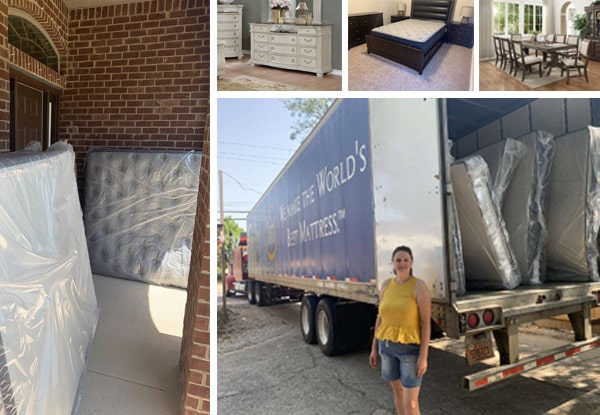 Well known mattress brands
Mattresses by brands can be tested at our mattress and furniture store in Pensacola.
Authorized dealers for: Jamison, Englander, Serta, Simmons, Rize & More.
Authorized dealer for biggest USA Mattress brands
Matco Mattress is an authorized dealer selling quality mattresses by Serta & Simmons. If you are looking for a specific model from Serta we can help you at our store. Is important to find quality products at a discounted price.
Our small mattress and furniture business is family owned and operated in Pensacola, Florida. We are keeping our expenses low, as we are the one who manage and operate the business. Stop by our store to enjoy our special mattress deals and furniture discounts.
Financing for mattresses & furniture
Getting a mattress and bedroom set with financing is a great help for our customers. With $40 down, 90 days same as cash, no credit check you can get approved in minutes and sleep on your new mattress in the same day.
Same day mattress delivery
Getting your mattress delivered in the same day is a dream come true. Our customers are very excited to know they can have their mattress home in the same day. Stop by Matco Mattress, test your mattress and sleep on it on the same night.
Mattresses & furniture in stock
Now getting mattresses and furniture in stock in a big challenge. Our store is trying to do our best to keep everything in stock and ready to go home with you.
Choose your best mattress store in Pensacola what offers quality brand name mattresses, bed frames, box springs, metal frames, bedroom furniture sets with night stands, chest, mirror, dresser, beddings.