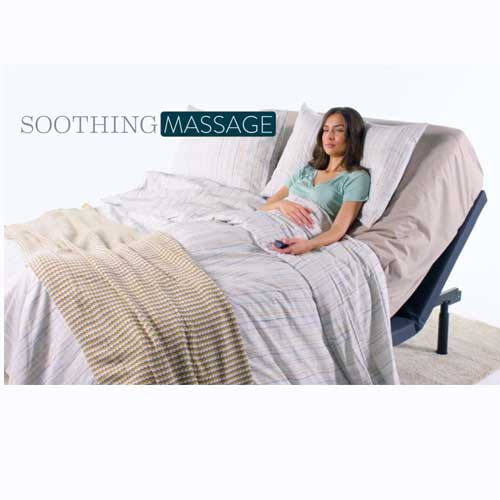 Adjustable Bed Clarity II with voice app (Queen size)
Adjustable Bed Equipped with Voice Control app, Soothing massage, Heavy-duty lift motors and Under-Bed lights!
Adjustable Bed with Five Pre-programmed positions:
flat,

anti-snore,

zero gravity,

incline,

leisure lounge.

Save your own settings in the programmable remote and voice-powered app!
Therapeutic massage for enhanced relaxation
Adjustable legs can raise or lower the height of the bed - or be removed to place the base on a platform bed!
Once you find a favorite position, you'll never want to go back, so save your custom settings to use any time

Sturdy steel post legs can be raised or lowered to change the height of the base from 13 to 19 inches

Customize your relaxation without putting down your mobile device, and use voice controls for easy adjustment

Sleep better by using the anti-snore position to raise the head and open airways to reduce snoring

Improve blood flow, reduce back pain, and feel almost weightless in zero gravity

Get neck support and lift your feet up for better support and relaxation while you read, work, watch, or browse

Heavy-duty motors lift up to 850 lb. per base so you can pile on the thick mattress and extra pillows

Raise just the head, for an easy way to get into position for reading, watching TV, or scrolling

Choose intensity of your massage for enhanced R&R

Set the bed to go through a series of positions automatically

Rize adjustable beds are designed to fit inside most existing headboard/footboard/rail systems

Press one button to return to a flat, neutral position

No need to give up a favorite bed - you can remove the legs and the base will function perfectly on top of a platform bed

Adjustable base motors also have a built in safety feature to reduce stress on objects caught under the bed, so there's no worry about pinching or pressing

Even during a complete power outage, the battery backup system allows you to return your bed to a flat, neutral position

Adjustable headboard brackets

Available for additional purchase, these headboard brackets make it easy to attach your favorite headboard to your adjustable bed

Don't worry about stumbling around in the dark when you use the gentle illumination of our under-bed LED light

A built-in outlet on each side of the base keeps your devices charged and ready to use for work or play

!!! Large sizes available as a single piece for simplicity and value, in one box that's easy to fit through the door