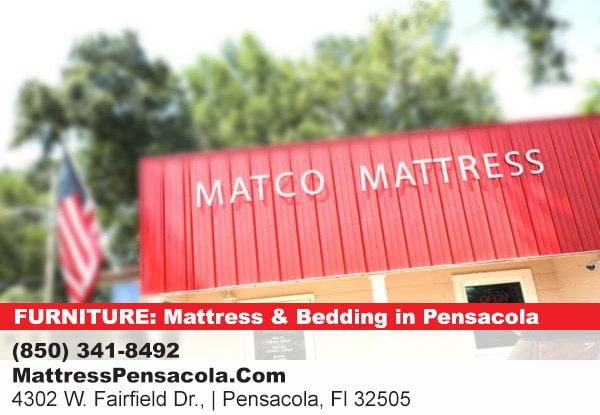 Don't pay over MATTRESS OUTLETS prices when you have other
SMALL MATTRESS OUTLET STORE in Pensacola!
We are a locally own SMALL MATTRESS OUTLET store on Fairfield Dr. Pensacola.
Visit our MATTRESS STORE today and get the price what are you looking for.
WHICH MATTRESS DEAL you can get today at our

small MATTRESS OUTLET store IN PENSACOLA?
FIRST:

YOU GET BETTER PRICE FOR ANY KIND OF MATTRESS FROM ANOTHER MATTRESS OUTLET store!
SECOND:

FOR ALMOST ALL MATTRESS MODELS YOU GET FREE MATTRESS DELIVERY in Pensacola, Fl.
MATTRESS STORE LOCATION:
The MATTRESS Store is across OF PENSACOLA OUTLET ON FAIRFIELD DR.; Wells Fargo Bank; Lowe's; Pensacola Plaza; BBVA Compass Bank; Ross Dress for Less; T-Mobile;. AutoZone; Members First CU; Office Depot etc.
Visit us today to get daily mattress outlet deal! 
Are you Ready to go mattress and beds shopping in Milton Florida?
Check first MATCO Mattress inventory, and get delivery to you door step in Milton, Fl.
With kind of mattresses and beds you can get in Milton Florida?
Pillow top mattresses

Plush Mattresses

Firm mattresses

Memory foam mattresses

Extra Firm mattresses
Beds type:
Upholstered beds

Bunk Beds

Box springs

Metal frames

Headboards

Adjustable beds
Visit our PENSACOLA MATTRESS STORE to order mattresses with delivery in Milton, Florida! 
Call us - 1-850-341-8492
More...